BAHAY NAKPIL-BAUTISTA : Pamana Series 2022, Baliktanaw Ariston Bautista y Lin (1863 – 1928), PHYSICIAN, PATRIOT, PATRON OF THE ARTS
Ariston Bautista y Lin (1863 – 1928), while furthering his medical studies in Spain and France, met a group of Filipino propagandists in Madrid such as Jose Rizal, Juan Luna, Marcelo H. Del Pilar, Pedro Paterno, and Graciano Lopez Jaena, the same group of ilustrados who founded the first Filipino Mason Lodge in Barcelona in 1889.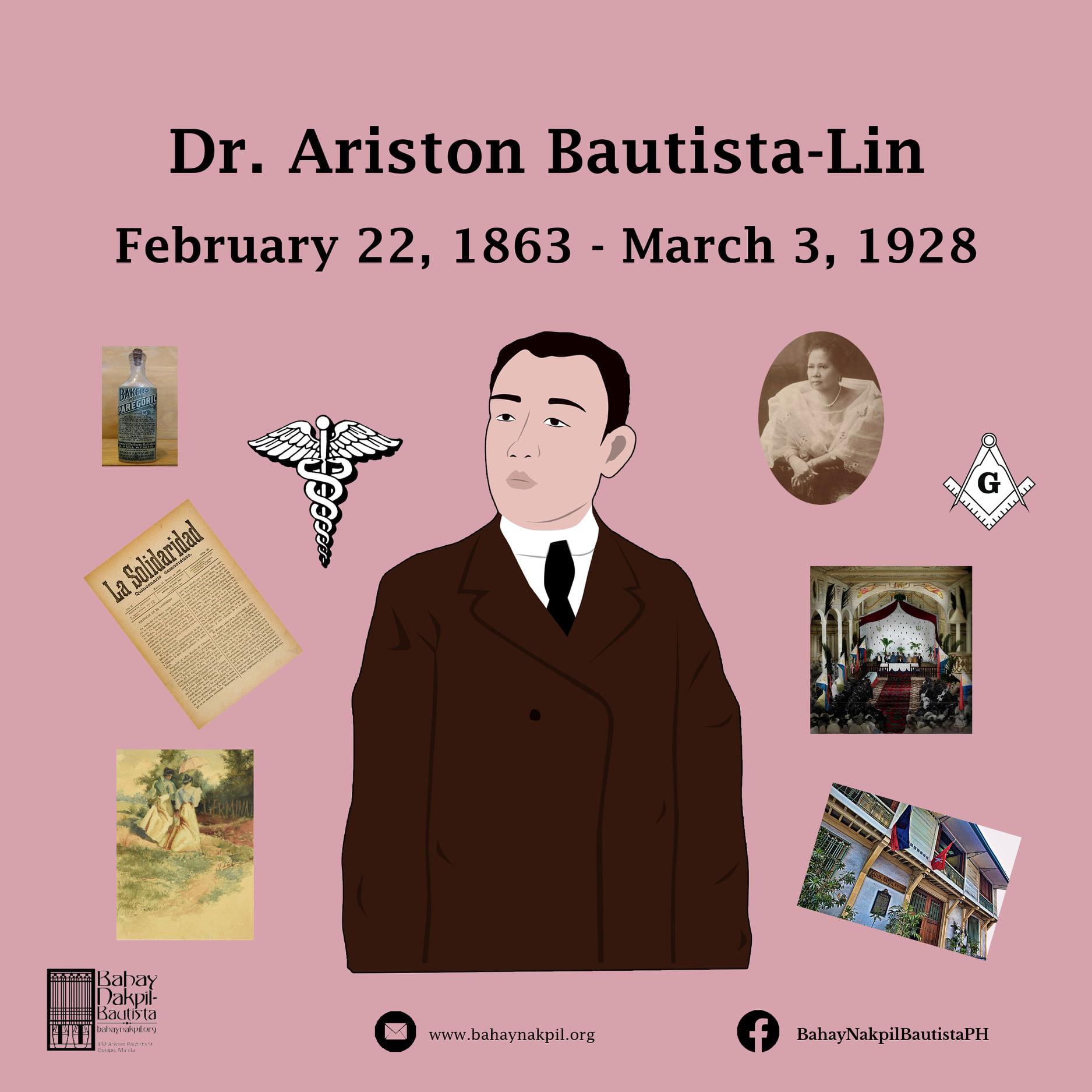 Ariston joined the Lodge and took the name "Balagtas" after the legendary Tagalog poet. In 1895, Ariston returned to Manila, but was arrested and imprisoned at the Fort Santiago for his membership in the Propaganda movement, and for his financial support to the group.
After his release he resumed his medical practice, and became known to be one of the few lung specialists in the country. It is said that he established the use of paregoric as a cure during the cholera outbreak in 1885.
Bautista went on to become a Representative of the National Assembly of the Malolos Congress and he was a signatory to the Malolos Constitution in 1896.
He also ventured into business. He was one of the directors of the Agricultural Bank, the first government corporation which was taken over in 1916 by the Philippine National Bank.
Ariston Bautista was the founding president of the Germinal Cigar and Cigarette Company.
From his substantial income, he sponsored friends and relatives in their studies abroad. Among the scholars was Elias Domingo, who became a specialist in nervous diseases, Francisco Villaroman, head of the Section of Abdominal Surgery in the UST Hospital and Mariano Cruz, surgeon and x-ray specialist.
Bautista was a patron of the arts supporting Filipino arts and artists, among them Fabian de la Rosa, distinguished painter of women's portraits, and Ernesto Vallejo, violin virtuoso. He supported the studies abroad of his nephew, Julian Felipe Nakpil, first awardee, the National Artist Architecture.
In 1907 Bautista was Chief of the Department of Medicine, Bureau of the Philippine General Hospital; Professor of Clinical Medicine at the UP College of Medicine and Surgery. In the same year, Dr. Bautista was one of the founders of La proteccion de la infancia (Gota de leche). He was active in the Philippine Medical Association and was President from 1908-1909. He married Petrona Nakpil of Quiapo, herself a recognised visual artist.
Photo credits:
Bahay Nakpil-Bautista Photo Archives