ADDRESS
432 Ariston Bautista St. (formerly Barbosa St.)
Quiapo, Manila, Philippines
OPEN

Saturdays only, 9:30AM to 4:30PM
CLOSED

On other days, and on official and declared holidays.
Room rentals, For Functions and Events, by advance and written reservation only.

Merchandise shop

Please note there are No airconditioned rooms.
Easily accessible by public transport, from Quezon Blvd. and C.M. Recto St./ F.R. Hidalgo St.
Parking space available for limited number of cars or vans in front of the house. (Please notify us of your arrival ahead of time.)
Please note that A. Bautista Street from F. R. Hidalgos Street is one-way and dead ends at Escaldo Street.
Bahay Nakpil-Bautista is a 108 year old house. We regret that there are no Accessibility facilities for physically challenged pesons.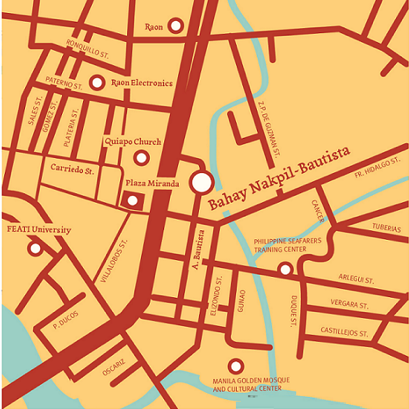 Entrance fee, 80 Pesos per person (one standard rate)
Other fees may apply in addition to the Entrance fee (room reservations, events, video shoots, film productions, pre-nuptial shoots, etc…)