Tahanan ng mga Katipunero
Home of Heroes of the 1896 Revolution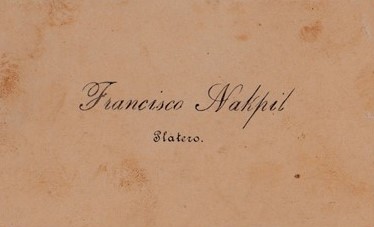 (January 29, 1865 - April 10, 1906)
Silversmith
Member of the reform movements La Liga Filipina and Cuerpo de Compromisario
Brother of Julio Nakpil
Born on January 29, 1865, Francisco Nakpil was the third child of Juan Nakpil y Luna, a musician and jeweler, and Juana Garcia y Putco of Quiapo Manila. Three days after his birth, he received the sacrament of baptism, with Vicente Villaseñor as godfather.
Francisco Nakpil belonged to a brood of 10 siblings (four brothers and six sisters) one of whom was Julio, who became the composer of the Philippine Revolution. Much later, Francisco himself became godfather to Julio's only son by the widow of Andres Bonifacio, Gregoria de Jesus-Juan F. Nakpil, the first Filipino National Artist for architecture.
Unlike his more famous brother, very little is known of Francisco's own life and career, but like his father his brothers, Francisco was an expert platero, or silversmith.
He became a member of the reorganized La Liga Filipina in April or May of 1893. Along with Estanilao Legaspi and others, he was inducted into the association by its president, Domingo Franco. Immediately after, he was named head of the Liga's popular council in Sta. Cruz, called "Mactan."
By this time, Bonifacio, a Liga member, had already organized the Katipunan and had been urging the others to give up the association's reformist goals and seek instead the only alternative left for Filipinos – independence through revolution. Thus, the Liga was dissolved in late 1893. A year later, however, its more conservative members, among them Nakpil, decided to regroup under a new association called the Cuerpo de Compromisarios. Among its immediate objectives was the rescue of Rizal from his exile in Dapitan. Although its members were able to raise the necessary fund for the risky undertaking, the rescue attempt foundered because the ship owners they contacted were unwilling to cooperate with them.
As the months dragged on, the Cuerpo members realized that the colonial government was impervious to their demands for reforms. What made things more disheartening was that funds for the Propaganda Movement's mouthpiece, La Solidaridad, were getting harder to obtain. In the end, the Cuerpo de Compromisarios, like its predecessor, La Liga Filipina, also disbanded. In 1896, the Katipunan was exposed, causing the arrest of hundreds of suspects, many of whom were Liga officers and members, including its president, Franco. Nakpil himself was captured and imprisoned at the barracks to the Veteran Guards, according to his brother Julio.
In July 1900, during the early part of the American occupation, Nakpil served as member of the committee on arrangements, one of the committees organized by Pedro Paterno following the amnesty declared by Governor-General Arthur MacArthur for all Filipino insurgents who would surrender.
A bachelor up to the end of his days, Nakpil died on April 10, 1906.
(His remains are in the Nakpil-Bautista Mausoleum at the Manila North Cemetery.)
References:
Alzona, Encarnacion, editor & translator. Julio Nakpil and the Philippine Revolution
Manila: 1964.
Minutes of the Katipunan. Manila: National Historical Institute, 1978.
Nakpil, Francisco. Unpublished manuscripts furnished by Francisca Nakpil de Lange Philippines (1953), p. 148