Tahanan ng mga Katipunero
Home of Heroes of the 1896 Revolution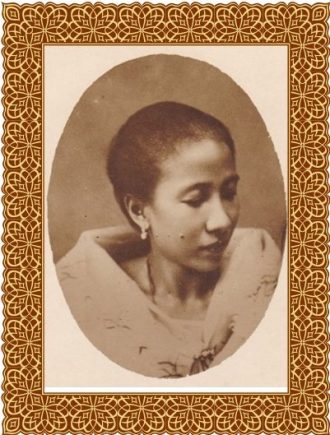 (9 May 1875 - 15 March 1943)
Lakanbini of the Katipunan Revolutionary Movement
Custodian of the movement's documents, secret codes and seal
Married Julio Nakpil after the revolution and lived with the Nakpil Family in Quiapo
"Matakot sa kasaysayan pagka't walang lihim na di nahahayag –
Fear history, for it respects no secrets" – Gregoria de Jesus
I am Gregoria de Jesus, native of the town of Kalookan in Rizal Province.  I was born on Tuesday, May 9, 1875, at number 13, Baltazar Street, now Zamora, in the place where thousands of arms used in the Revolution were buried, and where the revolutionary leaders met to make the final arrangements for the outbreak before leaving for the field.  My father was Nicolas de Jesus, also a native of this town, a master mason and carpenter by occupation, and a government official during the Spanish regime, having been second lieutenant, chief lieutenant and gobernadorcillo.  My mother was Baltazara Alvarez Francisco, of the town of Noveleta in Kabite Province, a niece of General Mariano Alvarez of Magdiwang in Kabite, the first to raise the standard of revolt in that province.
I attended the public schools and finished the first grades on instruction, equivalent to the intermediate grades of today.  I still remember that I was once a winner in an examination given by the Governor-General and the town curate, and was the recipient of a silver medal with blue ribbon, a prize bestowed in recognition of my little learning.
When I was about eighteen years old, I was married to Andres Bonifacio in the Catholic Church of Binondo, in March 1893 in deference to my parents.  But the week following, we were married again in the house of our sponsors on what was then called Oroquieta Street before all the Katipuneros at the their request, since they did not recognize as valid our marriage in the Catholic Church.
On the evening of the same day, I was admitted to the Katipunan and assumed the symbolic name of "Lakambini", swearing to obey its rules and fulfill its sacred purpose.
After more than a year, I was about to become a mother.  Andres moved me temporarily to my parents' house where I had been born, and there too our eldest child saw the first light of day, a boy whom we christened also Andres Bonifacio and whose godfather was Pio Valenzuela.
My second husband is Julio Nakpil.  He was commander of all troops in the north, which put an end to the fighting in San Mateo, in the company with Emilio Jacinto.  We were married in the Catholic Church of Quiapo on December 10, 1898.  When the Philippine Revolution ended and peace was restored, we made our home with the well-known philanthropist, Dr. Ariston Bautisa, and his wife, Petrona Nakpil.  With us also lived my mother-in-law and brothers- and sisters-in-law.  By my second husband I have eight children, two of whom, Juana and Lucia, are now dead. And six, Juan, Julia, Francisca, Josefina, Mercedes and Caridad, are living.  They were all sent to school by Dr. Ariston Bautista, who also made it possible for my son (Juan F.) to complete his studies, and who treated me like a daughter and sister while he lived.